I love using technology in interesting ways. The bulk of the below projects were from my days as a marketing director at the Shakespeare Theatre Company (STC) where I used the art on stage to try out some different ideas.
Click on an item to expand it:
★ Augmented reality and The School for Lies
Using an augmented reality app called Zappar, I created an interactive installation in STC's lobby for the production of The School for Lies which had a gorgeous set, heavily influenced by contemporary artists.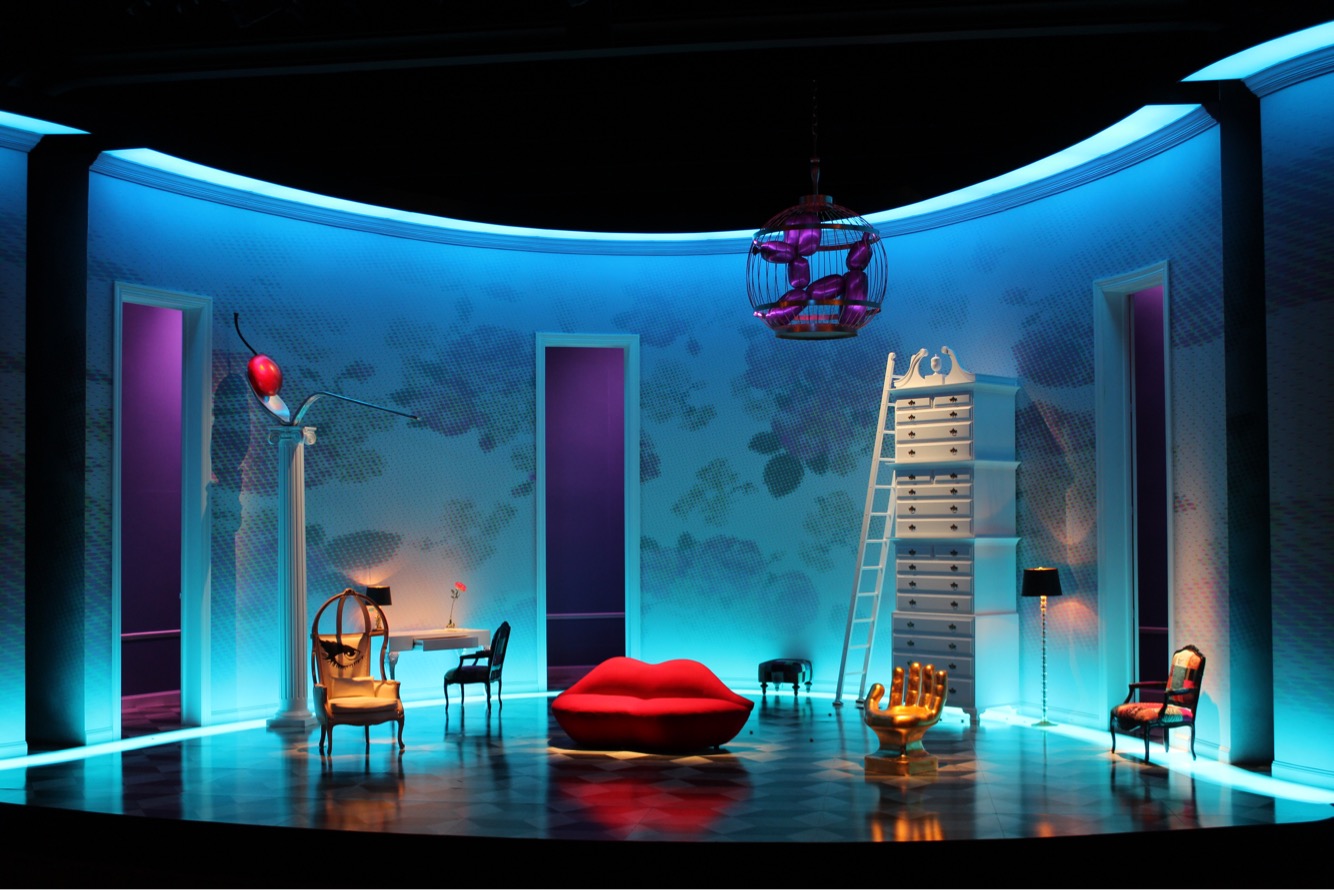 By pointing their phones at this display and activating the augmented reality app, patrons could explore the work of those artists and engage with content like behind-the-scenes photos and videos. The project's official webpage.
We interviewed the set designer for a series of videos that are part of the content available within the augmented reality experience. He also generously supplied the actual set model which was used by STC's Scene Shop as the guide for building the show. The model added a needed physical element that really made the installation stand out in the lobby.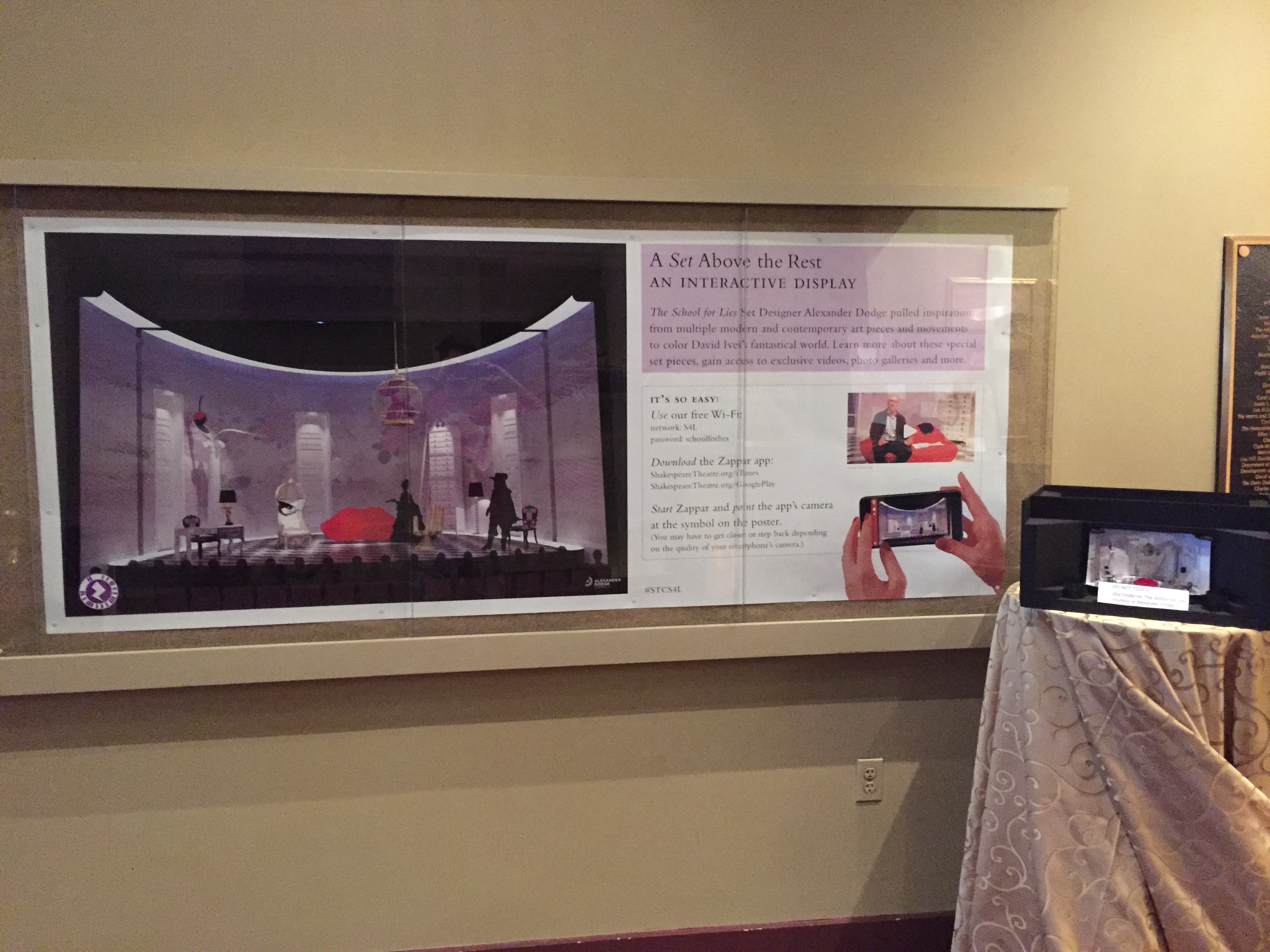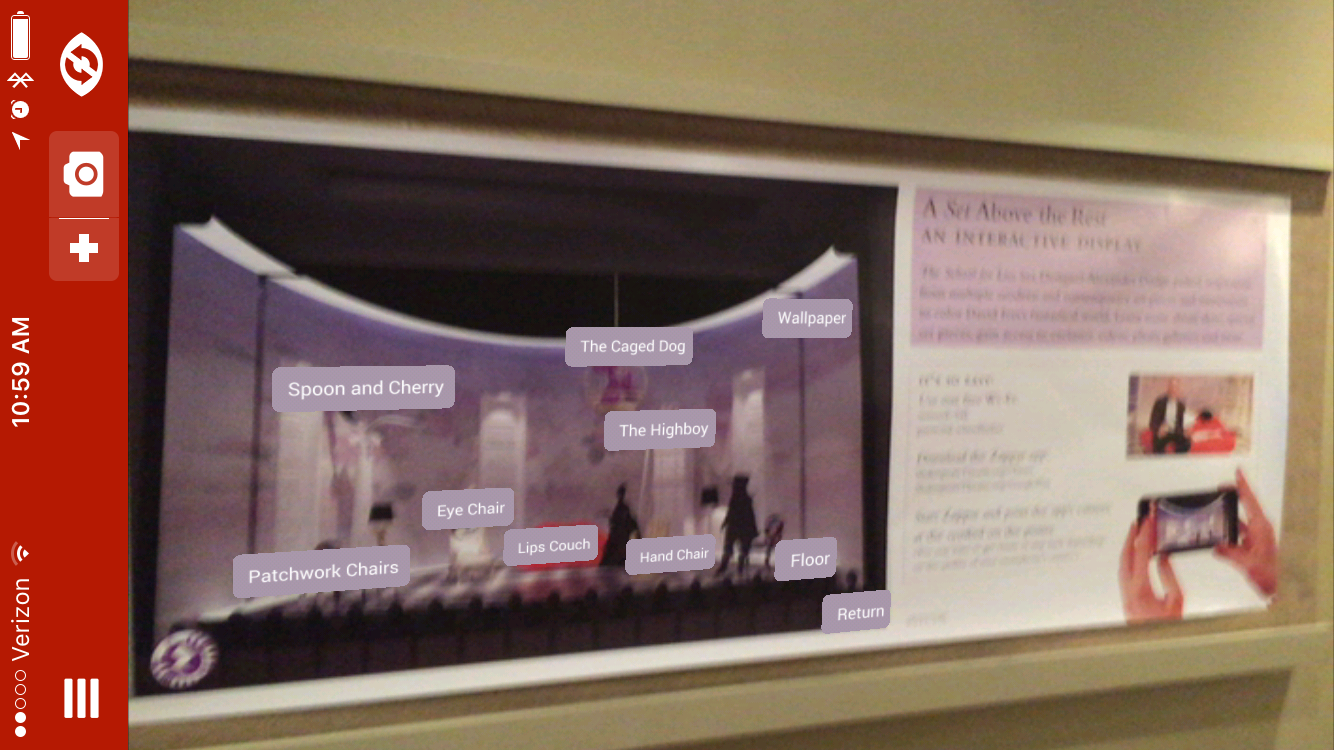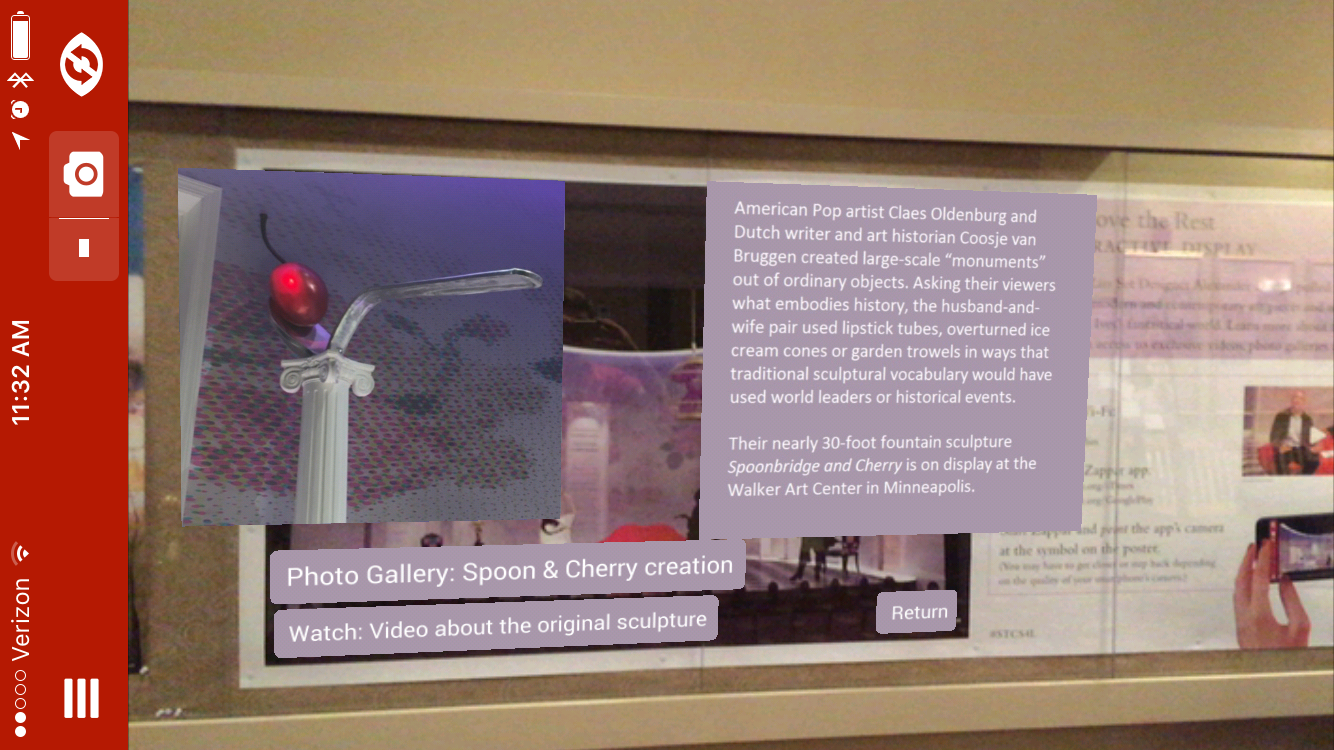 ★ Undo Othello
Got together with my friends at Unmapped Path to create "Undo Othello" an annotated interactive exploration of the play's Act 4, scene 1. At various points in the scene you can interrupt it to try and change the course of action. Try it.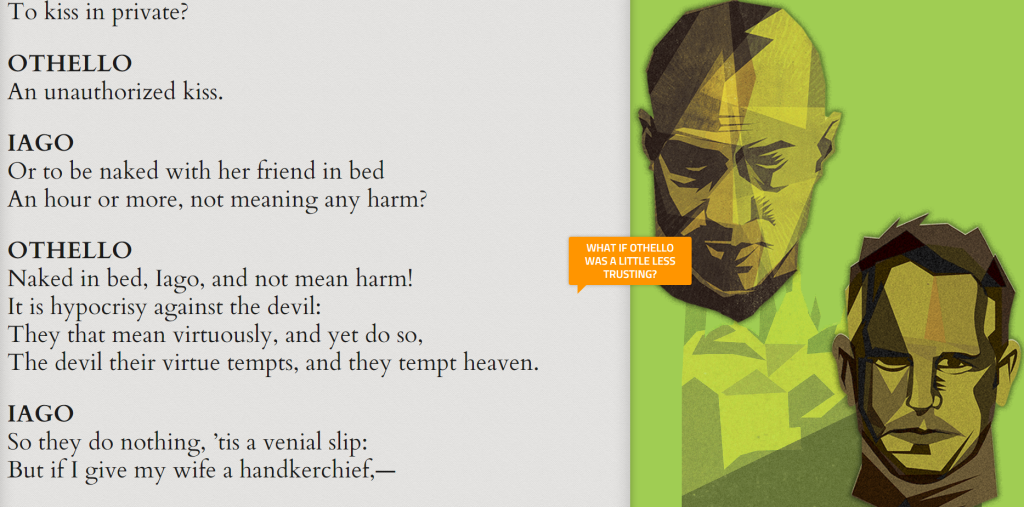 UPDATE! STC remounted Othello for their Free For All and it gave me a chance to revive this project. This time I turned it into an interactive lobby experience using a Raspberry Pi.
★ Juliet_Bot, a Facebook Messenger bot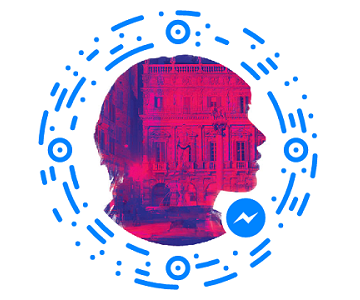 I created a Facebook Messenger bot to suppose what Juliet, of William Shakespeare's ROMEO & JULIET, might have thought about her pending arranged marriage.
Open your Facebook Messenger app and search for "Juliet_Bot", or scan the above Messenger code, or click here: m.me/JulietBotSTC to begin talking with her.
Read about the origin of the idea.
Content Marketing Institute's CCO Magazine gave a shout-out to Juliet_Bot! Read it here (page 33).
★ Redactor, a text adventure for 1984
Created a text adventure game called Redactor to promote our presentation of 1984. You play as Winston in his job at the Ministry of Truth. Play the game.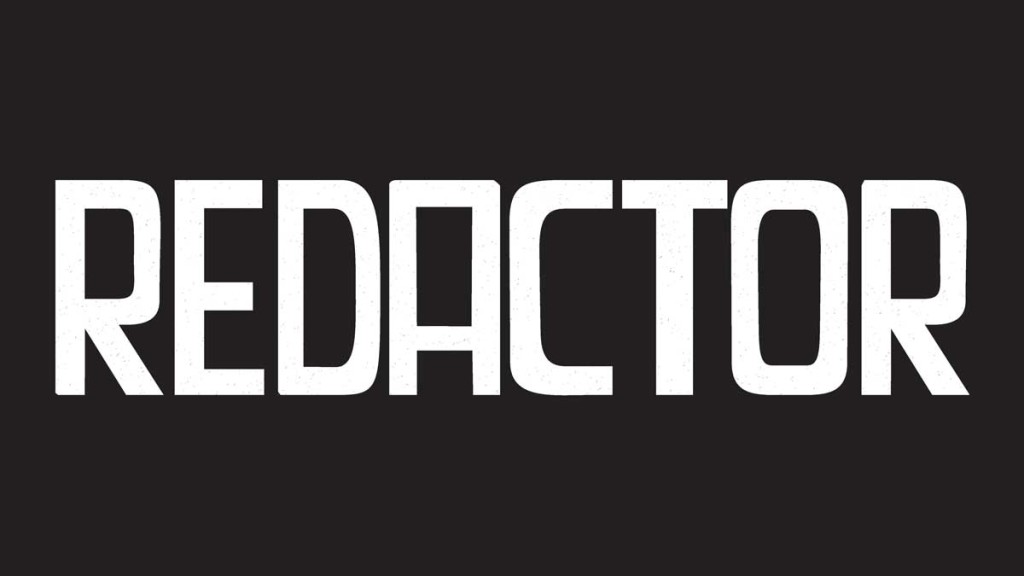 ★ The Taming of the Shrew, "Save the Date"
Ok, so this isn't actually a digital project though it did ultimately have a digital component. We were producing Shakespeare's notorious play, The Taming of the Shrew, and it was going to be directed by Ed Sylvanus Iskandar, an up-and-coming, NY-based director who is known for his provocative staging. While registered as liberal, STC has a surprisingly conservative audience and I knew that we'd need to be up front that this production wasn't going to be "traditional." I took a hard look at the tactics we typically employed when marketing a play and decided that they would need to subtly reflect that this Shrew would be unusual. It was tricky because at the time we still didn't quite know what the director intended to do.
I won't go into the play's (horrifically misogynistic) plot but essentially the characters are trying to abuse Kate, the shrew, into getting married. Instead of our typical early postcard which is usually very marketing-centric, I thought a "Save the Date" where the groom is yet to be announced would be a way to subtly declare that something about this show would be different. We'd spend a little money to print something nice for greater impact.
It came in a nondescript envelope with a simple stamp on the front and our address plainly printed on the back.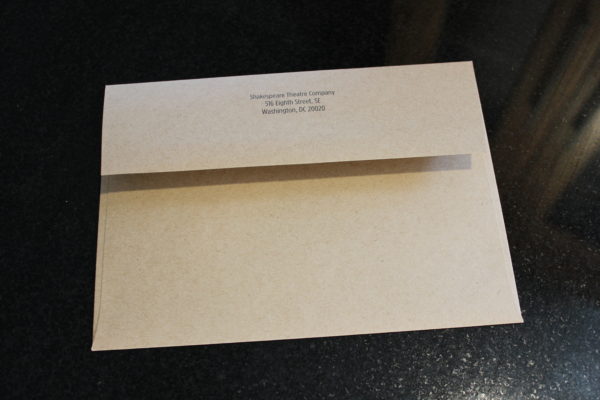 Opening the envelope our customers were greeted with the single "Save the Date" card announcing the wedding. The silver foil punched into the card made the whole thing really pop.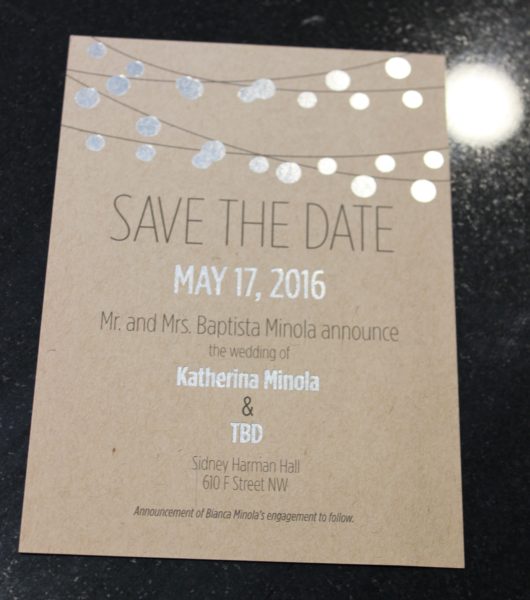 A lot of Shrew jokes packed in there for Shakespeare aficionados.
The back is where I included the marketing language, a ticket discount, and a vanity URL.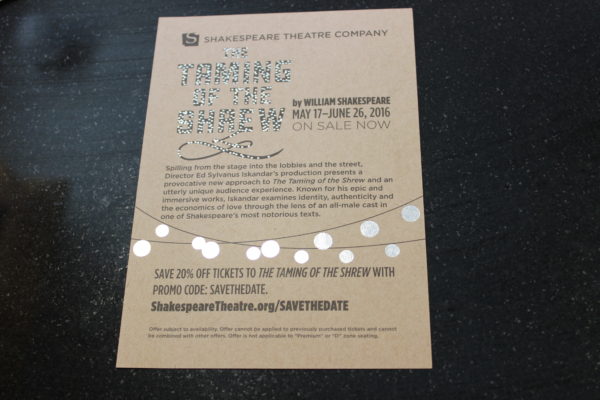 I'm proud to say that this effort was tremendously successful. Our customers took hundreds of photos of the piece and shared it all over social media. The promo code earned five times what the piece cost. I'd bet good money that in the history of direct mail that a piece getting positively shared in this fashion is pretty rare.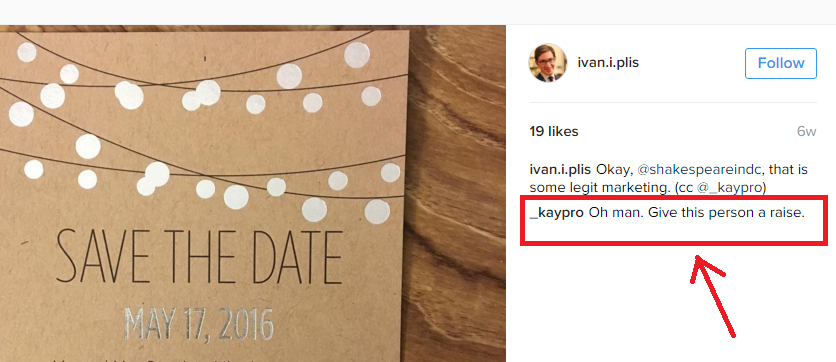 The special landing page where this piece pointed: www.ShakespeareTheatre.org/SaveTheDate. In case that page ever goes away: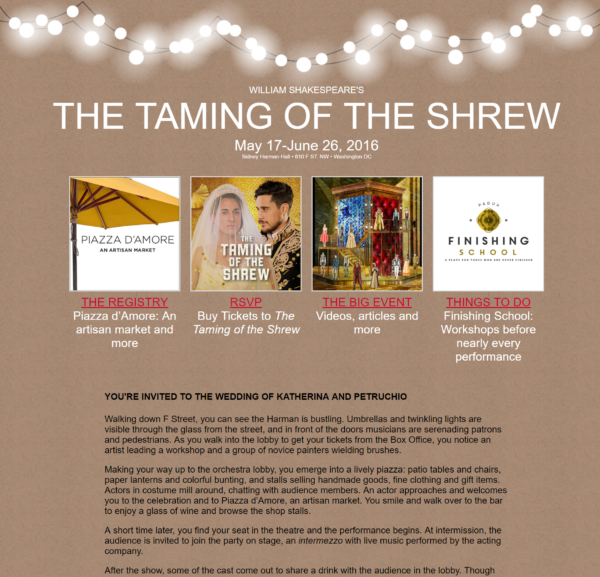 ★ Set the events of Macbeth into motion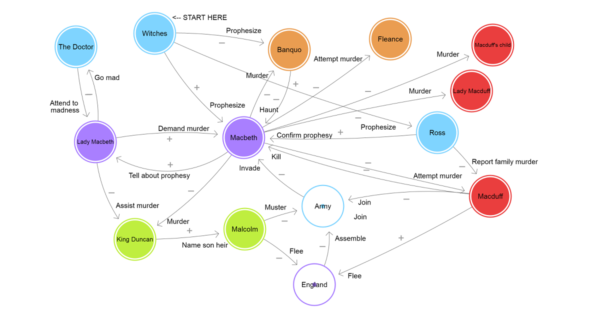 I created an interactive chart to illustrate the chain of tragic events in Macbeth. It was just a quick thing that I created and scheduled for a quiet Friday afternoon but ultimately it was shared hundreds of times on social media.
★ Secret Seeds
Considering that gardening is among my (many) favorite hobbies, coming up with ideas for the Shakespeare Theatre Company's production of The Secret Garden was a dream opportunity. Initially I had the thought to mail a letter which used special paper with embedded seeds. Customers could plant the mailing itself. Turns out that special paper isn't cheap and there were a few other logistical problems that made me nervous enough to drop the idea.
I later remembered a wedding where the favors were custom printed seed packets and a quick search revealed something even better, mailable custom seed packets.
My goal for direct mail pieces in general is to try and create something that survives the trip inside a customer's house, something that isn't immediately tossed into the trash. I deliberately didn't reveal what kind of seeds would be in the packet, counting on people's curiousity being strong enough for them to at least visit the special webpage (where, of course, I had retargeting code embedded so I could hit them with banner ads for The Secret Garden later). Plus, I counted on the fact that most people would be reluctant to throw away a packet of seeds even if they had no initial interest in the play.
The campaign was a success! The mailing converted at 20% and brought in seven times the cost to printing and postage. Plus it generated some buzz as amused customers shared photos of the piece on social media.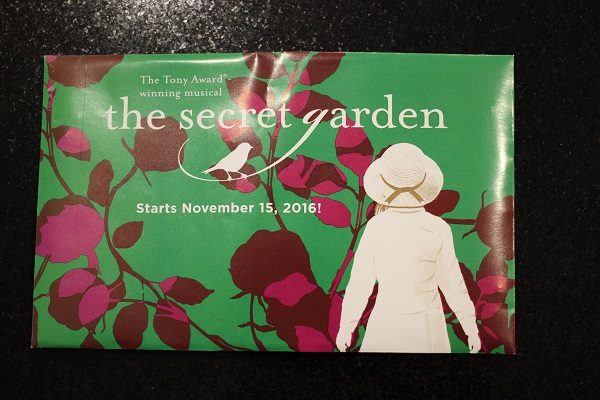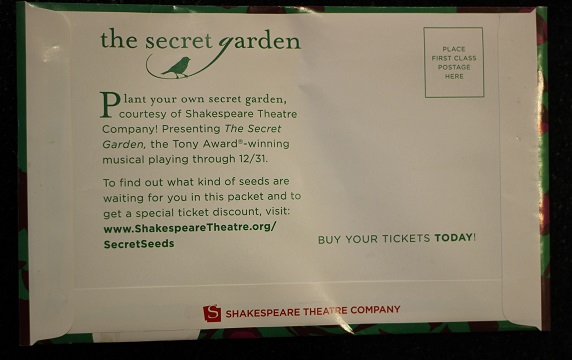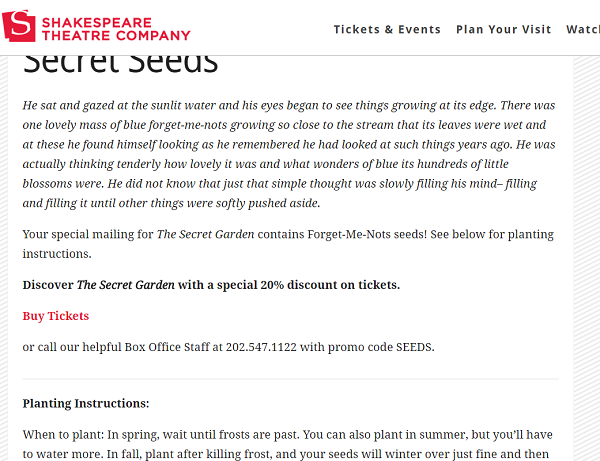 ★ A puzzle game for A Funny Thing Happened on the Way to the Forum
Made a basic puzzle video game for A Funny Thing Happened on the Way to the Forum. Players who finished got a ticket discount and could share it. Play the game.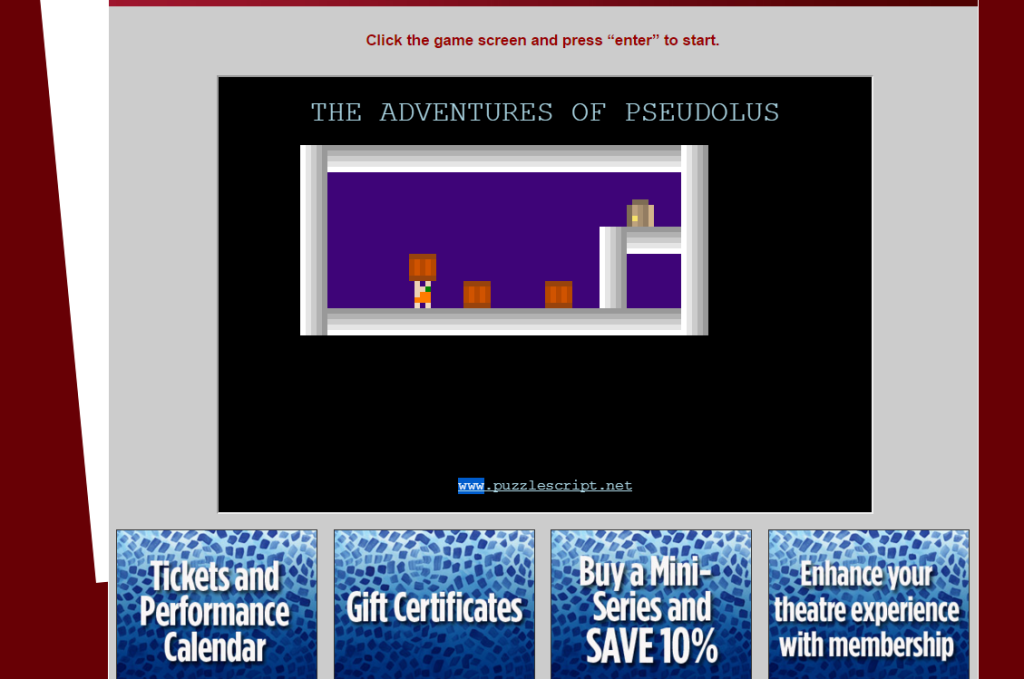 ★ Send a snarky valentine for The Importance of Being Earnest
The Importance of Being Earnest ran through Valentine's Day so I created these snarky Valentines using quotes from the play. Built a mechanism where customers could share them to social media or email them to friends with a custom message in the email body. Either way it would also share a small ticket discount. The webpage no longer exists after STC moved to new website but here are a few of my favorites: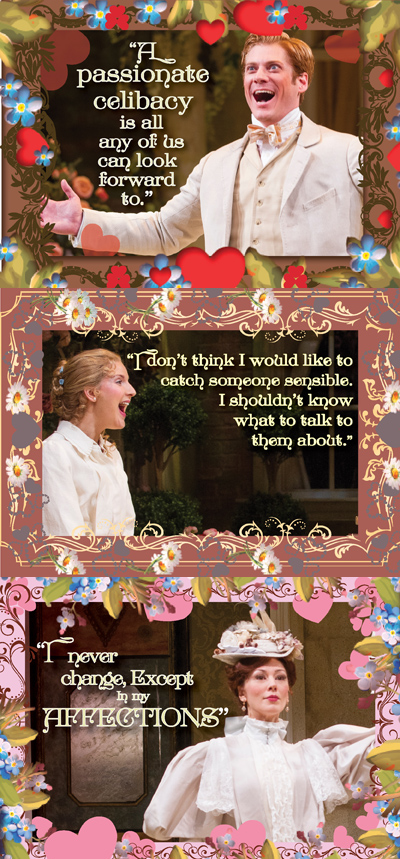 ★ As You Like It road trip kit
Created a "Road Trip Kit" for As You Like It, consisting of:
– A paper edition of "Tongues in Trees". Download the pdf.
– As You Like It Road Bingo. Download the pdf.
These were created at the tail end of the show just as a random idea for the coming Thanksgiving holiday but they got a huge response– got over 10,000 downloads (!). I created another set for The Tempest for the Christmas holiday and it too got a good response.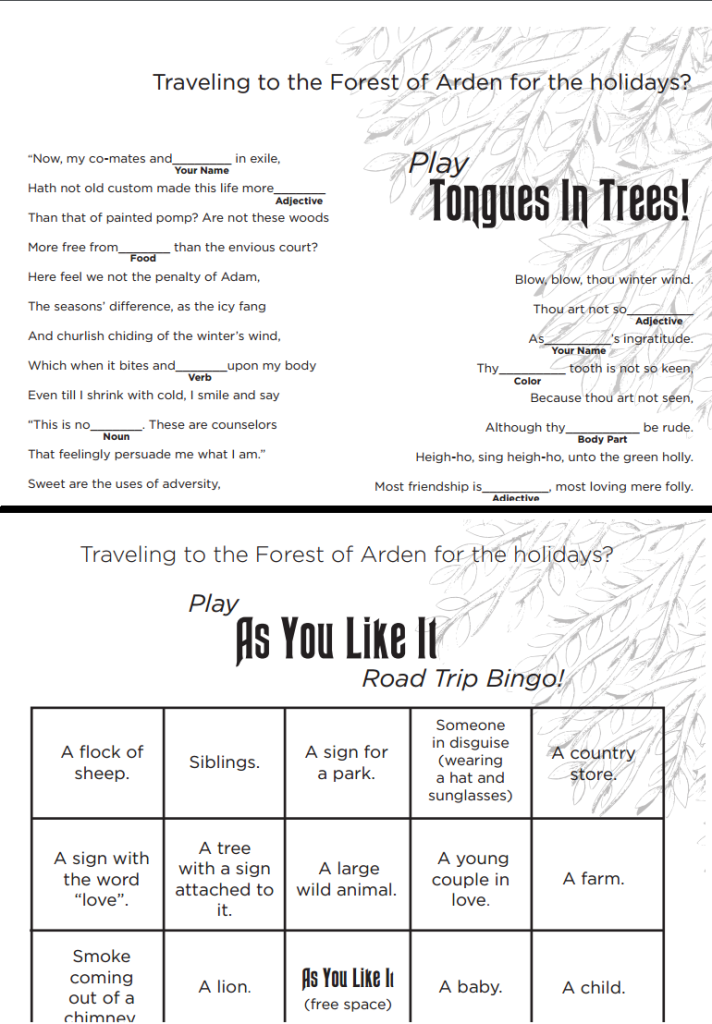 ★ Send a message in a bottle for The Tempest
Created a "Message in a Bottle" promotion for The Tempest where users filled out a web form with a few basic questions about their hopes and dreams. They were also asked to share the promotion, in the process sharing a ticket discount. A full year later I sent the "bottle" back to the users with their own answers & a discount for the coming season. Not sure my coworkers "got" this one but it was fun to implement. Plus a little over 600 people participated so I'm calling it a win!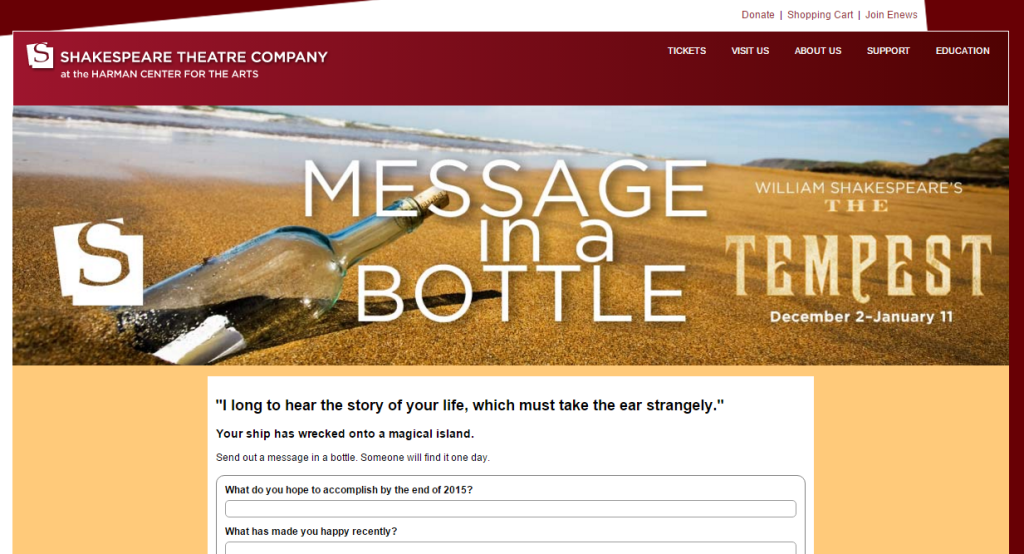 Some non-STC projects:
★ The Gray Matter Sodality, a puzzle subscription by mail
★ Turning Metro's logo into poop with augmented reality
★ A Geocaching Twitter Bot
★ Locative Storytelling using Twine