A while ago a friend asked on Facebook for recommended mobile games that she could play with one hand while she nursed her infant son in the middle of the night. Even though at the time I had no children, I understood what she was getting at. Often on my morning commute I'll ride a train with no open seats and have to perilously hang from an overhead handle while stubbornly trying to play a game that really needs two full hands.
Now the parent of an infant I'm suddenly in that particular position of either being up late at night or stuck on the couch with my passed out son on my arm. Social media only goes so far when you're refreshing it every two seconds and things are especially dire when it's 3 a.m. and the west coast is going to sleep.
In my desperate search for games to keep me entertained I've complied the below list. This is by no means an exhaustive collection and if you have any you'd like to add please either comment on this post or send me an email: (Austin Auclair at PatientRock.com). I'll update with your suggestions.
A few guidelines before we get started:
Avoid action games. If you drop your phone with a baby pinning you down, your phone might as well be gone forever. Plus you need to be able to set your phone down in an instant. Losing progress in a game because your baby's dinner was coming back up would be a bummer.

You're sleep deprived and really cranky so no games that make you think too hard or take too long to learn. Good strategy and puzzles are necessary to keep a game interesting but we parents need to easily get back to sleep when we're done dealing with the kid.
Nothing with a significant through-line. You're already tracking a billion things and don't need some story or information to remember from the last time you played. It's after midnight and your kid is piercing your sanity with their shrieks.
Listen, I'm not going to judge, I've been there, I've played plenty of "time-wasters". For a period I spent far too much time with Tiny Tower and when my wife, looking over my shoulder asked, "What's the point?" I had to sheepishly admit that there was none. I'm going to try and stay away from those on this list  mainly because their "energy" mechanics mean that you can't always play the game when you want. You have to wait for some resource to accrue or some button to unlock after a period of time elapses– not particularly helpful when you're looking for something to keep you occupied right away.
Not necessarily a no-no but let's avoid Tamagotchi-style games where you care for a digital pet. Isn't that a little too meta? Take a break from feeding squishy creatures.
There are some fantastic mobile games that I had to leave off this list simply because they can't be played with the phone held vertically. Unless you can rest your phone on your baby (do what you gotta do) or your thigh, games that can only be played in "landscape" won't make the cut.
We want games that are low-cost or free. We've got kid(s) to feed!
Exceptions can be made for really good games that'll stick around for a while. (the prices I list below were correct when I wrote this post)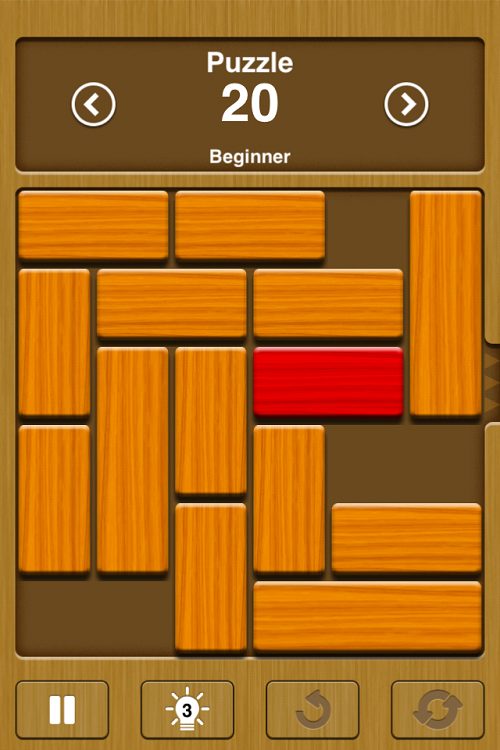 Unblock Me
Price:
Free
A puzzle game of moving tiles around. The goal is pretty simple, slide tiles out
of the way to get the red tile to the exit. I thought for sure this game would
wear thin after a few levels and even though it essentially has only one
mechanic with no later variation, Unblock Me has surprisingly stuck
with me. The free version has a ton of levels and the ads are unobtrusive.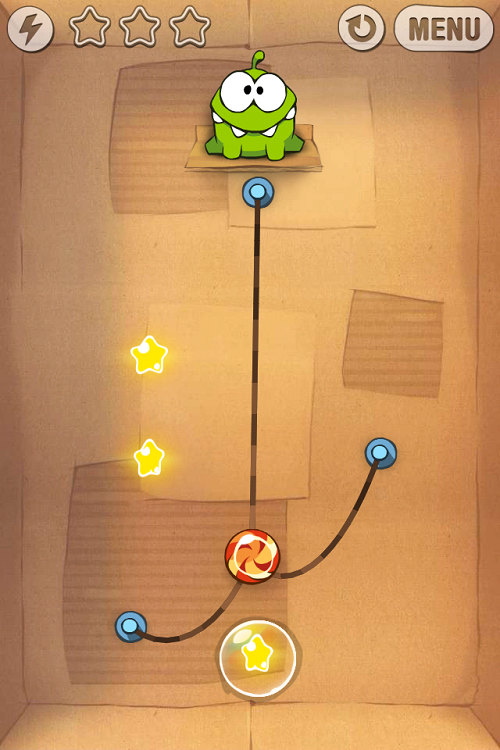 Cut the Rope
Price:
$2.99

Points deducted: occasionally some puzzles require the simultaneous use of two fingers
A cute physics-based puzzle game where you, as the name suggests, cut ropes to swing a piece of candy into the mouth of a little monster. I really liked this game since it manages to use a single mechanic in a lot of creative ways. Later levels introduce more environmental obstacles and the game offers nice challenges the further you progress. There's a free version of the game but stay far away from it as, in addition to banner ads, there are gross video interstitials that interrupt progress.
Where's My Water?
Price:
$1.99
Points deducted: older phone models might want to avoid this game as it seems to be a resource intense app (or perhaps download the free version first, quickly deleting it after you see how your phone performs)
An adorable (I'm running out of that kind of adjective) puzzle game where you guide pools of water to waiting pipes so that an alligator can take a bath. The physics of the water and other fluids in this game are impressive and overall the game is remarkably well developed and fun to play. Seeing that it's a Disney product I thought for sure the game would be filled with all kinds of horrible attempts to get me to spend more money but except for some level packs, any up-selling seems to be fairly restrained. Stay away from the free version though- unless you want to get reaaaaal familiar with whatever Disney's
next movie is (plus it only has a few levels).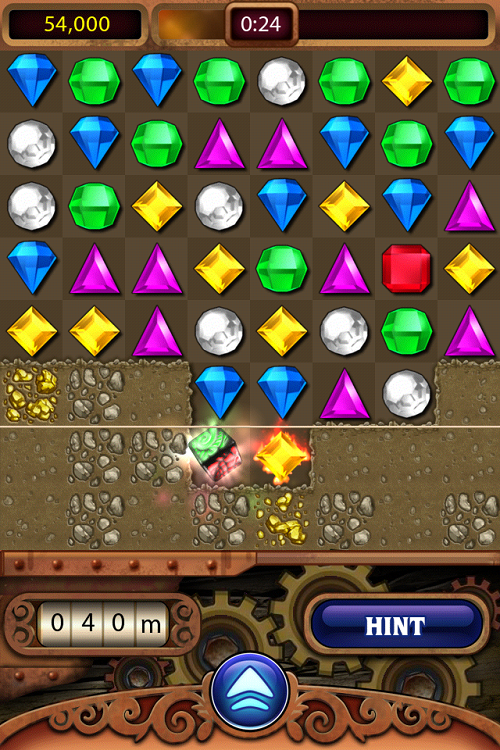 Bejeweled
Price:
$2.99 (to unlock the ad-free version)
You can't go one screen into the game section of any App Store and not encounter a billion clones of Bejeweled, one of the first and most successful games in the "match 3" genre. So get the real deal, not some lazy copy that forces you to wait to play unless you spend money (I'm looking at you, Candy Crush). Move gems around to form sets of three or more which then disappear, bringing additional gems to the screen. It also has a bunch of game modes that add some variation and purpose to play. I've played a bunch of Bejeweled late at night when I didn't have a brain cell of thought to commit to anything else.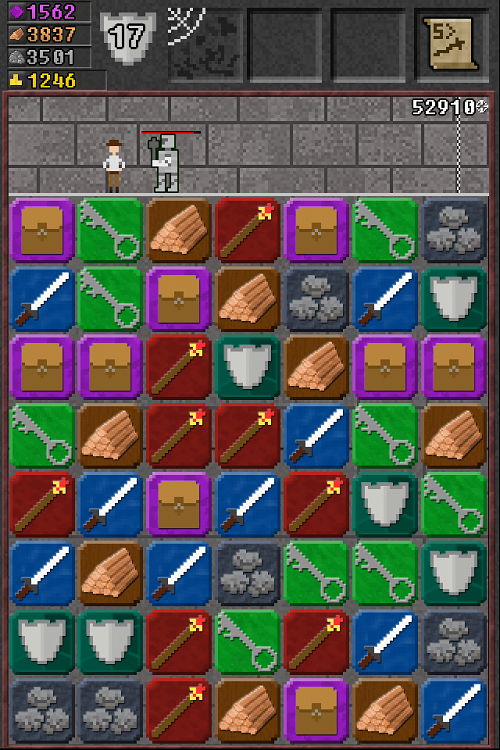 10000000
Price:
$1.99
While Bejeweled can be a meditative experience, the poorly named but brilliant 10000000 (ten million) is for those of you who are looking for a match-3 game with a little more purpose and excitement. Part "endless runner", 10000000 has you matching sets of particular icons to aid the escape of your adventurer at the top of the screen. Match swords to fight monsters, keys to open doors and chests, and more. You lose time as you stand still in front of obstacles and if your adventurer is knocked off screen the level ends. I particularly recommend 10000000 since it actually has an objective and an end. Perhaps it's only fault is that it gets very difficult later on and quickly making matches on a small screen can be tough.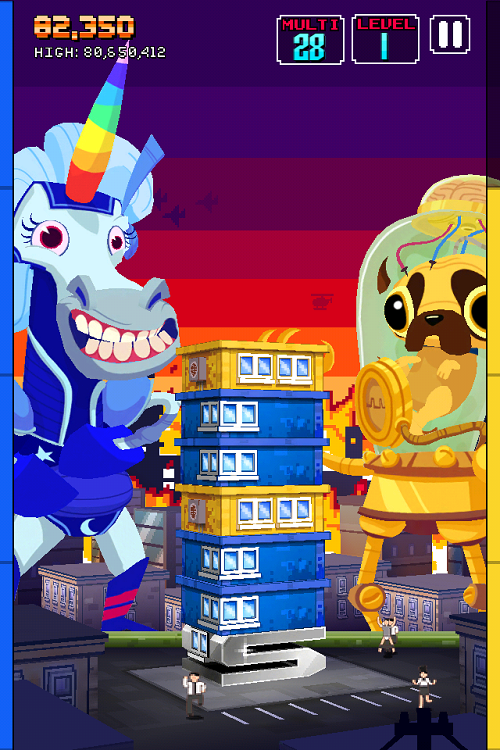 Monsters Ate My Condo
Price:
$0.99
iOS
Android
Epileptics beware, this game is bent on blasting your brain with flashing colors and constant movement. Despite overwhelming your senses upon first starting M.A.M.C., the game is actually quite simple and not as frenetic as it initially appears. You have an ever growing Jenga-like apartment tower and you swipe away floors of the building to feed them to the monsters standing on either side, trying to keep the whole thing from toppling. You strategically remove certain floors to match sets of three or more of the same color, earning additional points and clearing the way for more floors to arrive. Some late nights you need something like M.A.M.C. to slap you awake and this goofy game with its cranky alien space pugs does that very well.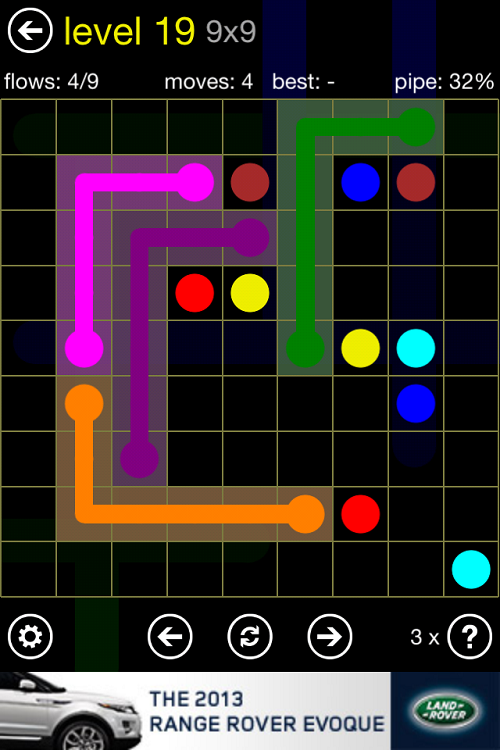 Flow Free
Price:
Free

I had played Flow Free ages ago and re-downloaded it one late night last week. In Flow Free you draw lines to connect colored dots but aren't allowed to cross the path of the lines you've already drawn. I'm not sure why, but I find that I'm really good at this game, quickly swiping my way through levels without making mistakes– it's nice to play something that makes you feel smart every once in a while. Later levels get rather intense when more dots are added and this game loses a bit of its shine as the dots get smaller and smaller to accommodate larger levels. My thumb has a hard time following orders when the dots get super tiny. The free version of this game has banner ads but I didn't
find them to be annoying.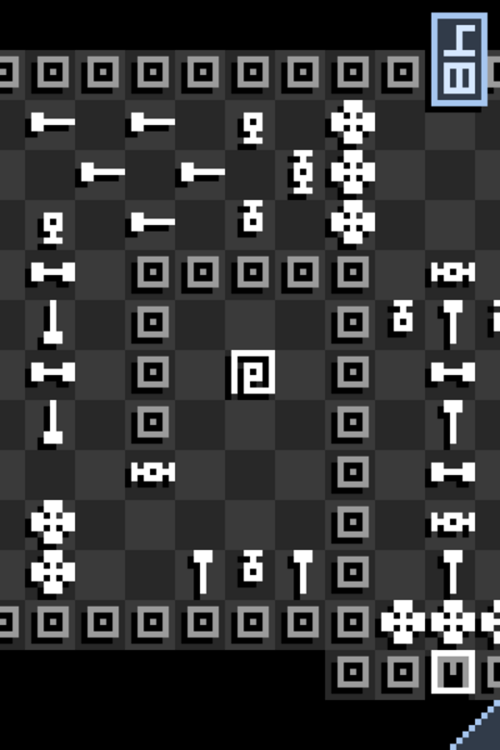 Ending
Price:
$1.99

Ending is a superb puzzle game with about as minimal of a design as you can get. You move your character, an "@", to try and reach the exit in as few moves as possible. There's a move countdown ticker that decreases with every action and you have to start over if it reaches zero. Don't be fooled by Ending's simple design as the puzzles can be hard and are thoughtfully planned. I sometimes needed a few tries before figuring things out. This game actually violates my "no landscape view" rule but it's so abstract that it's completely playable while held vertically. The first thing I do for most phone games is shut down the music and sound effects but I didn't do so for this one. I doubt many people will do the same but I leave the sound on while playing Ending since I like the "crunchy" effects that make every hit sound like it carries weight.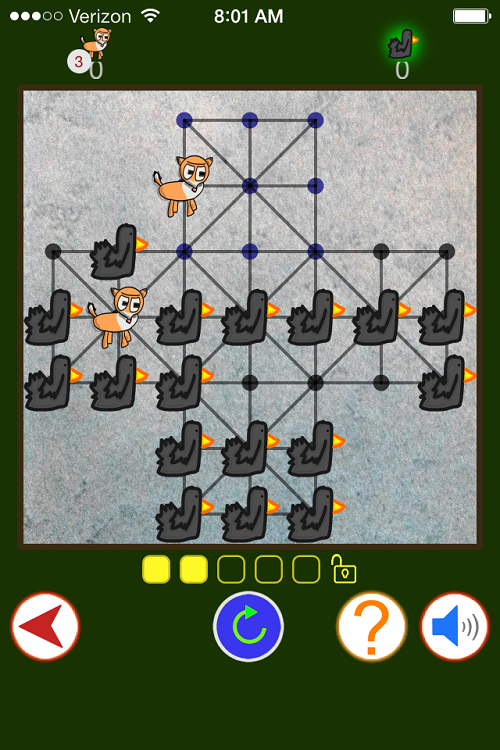 2 Foxes & 20 Geese
Price:
Free

I wouldn't be surprised to find a wooden version of this puzzle game in real life, sitting on an older relative's bookcase, with little pegs that fit into carefully drilled holes. You move one goose at a time, trying to completely fill the upper part of the board. The computer controlled foxes can leap over singular geese to remove those pieces from the game. Pretty basic stuff but I found 2 Foxes & 20 Geese to be quite pleasing and re-playable. Though it mainly makes me want to race over to my local game store that carries wood puzzles like this and buy a ton of them.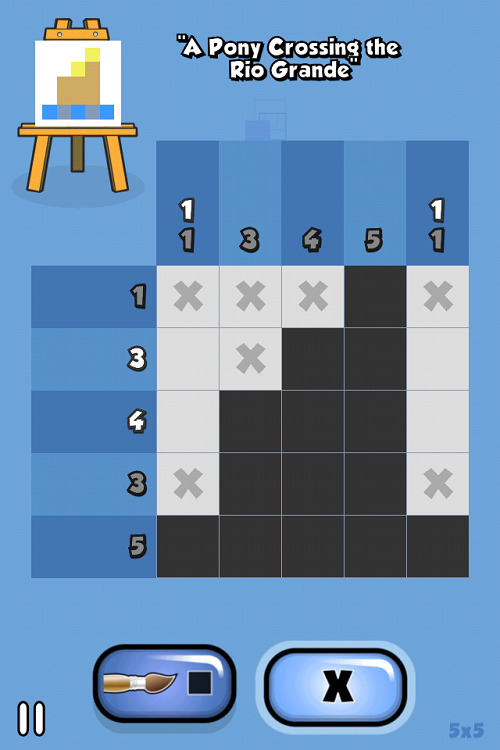 Paint it Back
Price:
Free (really, $2.99)

A logic game with a cute theme that does a good job covering up the fact that its puzzles might otherwise seem a little dry. You're trying to recreate erased paintings by deducing which squares in a numbered grid constitute the missing image. For example, a column of the grid is labeled with a "3" so you know only three of its squares are valid choices. Matching that against what you know of the grid's rows you can determine exactly which three squares to select. While Paint it Back is free you actually only get a few dozen levels unless you pay $2.99 to unlock the whole game. A fair trade I think as the levels offered give you enough of an idea to know if Paint it Back is for you. I love logic puzzles and this game did a great job tickling that part of my brain.
Updates:
SpellTower
Price: $1.99
In the comments my friend Jason suggested SpellTower, a game I had previously heard of but had ignored. I hate word games, probably because I'm terrible at them. It's strange since I love crossword puzzles but I've never enjoyed games like Bananagrams and Scrabble. However! I like SpellTower, mostly because there's no timer (at least in most of the game modes). You can take your time looking for good, high-scoring words. Also, it scratches a little of that match-3 itch where you're also looking to clear rows of letters before they reach the top of the screen.
Cheese Tower
Price: Free
I used to have a Droid but I got tired of Android never getting any of the cool games. In the comments my friend Brien suggested Cheese Tower. Give it a try!
---
I hope you parents (and standing commuters) out there find this post to be useful. Remember, take your phone out of your pocket before you sit down with your baby, you aren't getting it out of there after!