The good folks who create games using the Adventure Game Studio engine are having a bake sale of sorts, offering 14 new games for a pay-what-you-can price, raising
money for the Child's Play charity. I was sold at "14 new AGS games" but my
money going to a good cause made the purchase extra sweet. Hurry, the Bake Sale
ends on February 29, 2012, get your games now!
After downloading all 14 games I was unsure of which Bake Sale game to play first so
I proceeded in the most obvious fashion, alphabetically. With that hard part
figured out I started 9 Months In, a traditional adventure game about a pregnant woman in prison trying to clear her name before her baby is born.
The woman, Sarah, has been convicted of attempting to murder her husband. A former assistant district attorney she maintains her innocence claiming that the many criminals she convicted hold grudges against her and that she's been framed. Her situation gets even
worse as she wakes one morning to find her cell mate strangled to death, and since
they're in a locked prison cell, she is the main suspect.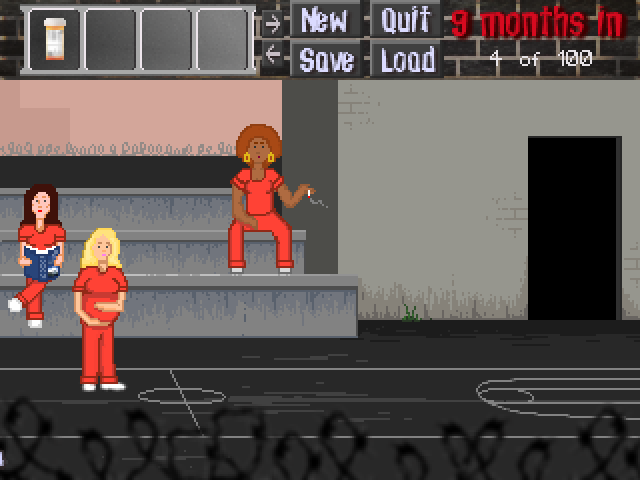 I feel like I was cringing while starting to play 9  Months In and my face stayed that way through the first part of the game. Not from anything the game actually did but from a worry that things could easily go in a very wrong direction as its subject matter is fraught with peril. The game's prison setting made it clear that Sarah was going to be in danger and that foreboding felt heightened considering her situation. It was nice however to find that 9 Months In didn't treat Sarah as a helpless victim as pregnant women are often portrayed, instead showing her to be strong and resourceful in the face of harsh and restrictive conditions.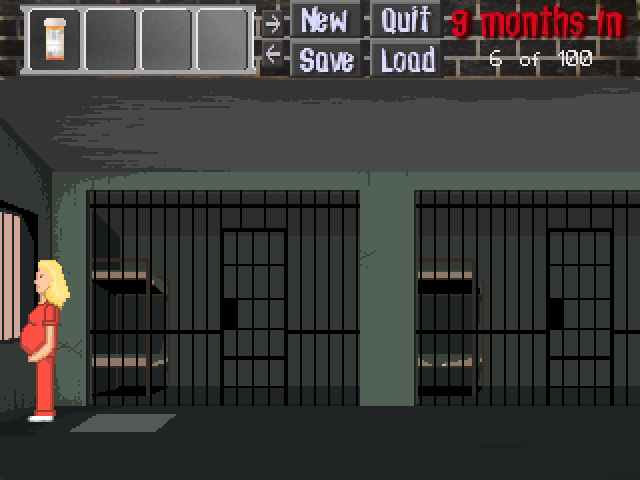 9 Months In is a little rough around the edges but none of its shortcomings are especially game-breaking. The story is certainly interesting but certain moments in the plot are clumsy or too convenient. The game's voice acting is amateurish yet strangely endearing. I really like the game's dark and grimy backgrounds which are well matched with the its moody soundtrack. My only real complaint, a fairly minor one at that, is that the game's multiple endings are a little too subtly reached. I actually played through the game three times, the first two times getting the same, unsatisfying ending. It turned out to be a very small thing to trigger the "true" finish to the game and those extra play-throughs didn't have enough variation to justify the different endings.

9 Months In is a great indie adventure game and it alone has made my AGS Bake Sale purchase feel well worth the price I paid (well, that and my money going to help sick kids). My choice to start alphabetically has started off well as I head into the rest of the Bake Sale
line-up of games.